This post may contain affiliate links. Meaning I receive commissions for purchases made through those links, at no cost to you. Please understand that I have experience with all of these companies, and I recommend them because they are helpful and useful, not because of the small commissions I make if you decide to buy something. Please read the disclaimer for more details.
Christmas is right around the corner and I know you're excited! There are so many ways to celebrate as the countdown to Christmas begins. I was thinking of a way I could celebrate with you this year. The first idea I had was to give you a gift. And then I thought, okay what can I give you that would be helpful?
A bullet journal!
But not just any bullet journal, I wanted to get festive with it. So, I wracked my brain and thought, ooh, a fun thing to do is a countdown to Christmas. Why not an interactive Christmas countdown bullet journal!
Nope, not enough. I had so many ideas that I decided to put them all into one journal. So, I created an all-encompassing Christmas themed free printable bullet journal that includes what you should have in every bullet journal, and some Christmasy add-ins too.
Today I'm going to go over what a bullet journal is, the must have bullet journal pages, a breakdown of what's in this Christmas themed bullet journal, how it can help you, and how to get it for free. Of course, just scroll to the bottom of the post to see how you can get it for free!
What Is A Bullet Journal?
Some people still don't know about this awesome journal. So I am going to answer these two questions really quick:
What is a bullet journal?
What is a bullet journal used for?
A bullet journal is a fun and creative organizational journal. It has everything you could need in one. A bullet journal is meant to help you keep track of anything that you need it to at any time. That means the past, present, and future. If you have a bullet journal for the entire year, you could keep track of your period, weight loss, budget, your schedule, and so much more. But I don't want to be vague. So, I'm going to go over exactly what can be used for.
What Is A Bullet Journal Used For?
A bullet journal is used for various and quick thoughts to keep your life on track and organized. It is perfect for busy people. The Bullet Journal Method by Ryder Carroll said it perfectly on his book's cover. It is an analog system to track the past, order the present, and design the future.
Ryder Carroll is the one who created the bullet journal idea and now they are everywhere!
In a full bullet journal, there are some must have bullet journal pages. To start, you should have an index to keep track of your pages. Then you are free to put in your journal whatever you wish. In Ryder Carroll's training video, he goes over a future log, monthly log, task list, a daily log, and rapid logging. You can also add in any other "logs" that would be helpful to you. This can be food logs, exercise logs, etc. Think of them as categories. This form of journaling is meant to help you be more productive.
What Are The Must Have Bullet Journal Pages
When it comes to having a bullet journal, there are some pages you should have no matter what. These would be
monthly pages (or logs)
weekly pages
daily pages
Kind of like a planner! But, unlike a planner, you can put whatever else you need in it. That is why I love a bullet journal. It allows you to have whatever you need or want. It allows you to be creative. Most importantly, if you haven't guessed by now, the bullet journal can be whatever you want it to be.
This might sound daunting to you. You're thinking,
"That sounds like a lot of work!" or
"That sounds overwhelming, I don't have time to create all those pages" or
"What if I get one, and I end up not liking it?"
Well, no worries, because I am here to help you with that. I created a one-month bullet journal for you. Think of it as a free trial! It has all the must have bullet journal pages, plus some awesome Christmasy themed pages as well. Next, I am going to go over what those pages are and how to utilize them in the best and most fun way possible! The holidays can be stressful and you could benefit from having some kind of an organizational system. Why not try a new way of staying organized? A way that can make you feel stress-free and at ease. Well, that's what my bullet journal is there for.
What's Included In The Free Christmas Themed Bullet Journal
This is where I decided to get creative when designing my free printable bullet journal. I thought about what could be the most important pages you would need to get you through the holidays. So, I created the following pages which are in my Christmas themed bullet journal:
About Me page
Month of December page
Christmas countdown pages
Weekly Pages
shopping list page
dinner planning pages
cards to send page
budget income pages
budget expenses pages
books to read page
movies to watch page
holiday bucket list page
quotes pages
daily pages
All those pages are ready and organized so that all you have to do is fill them out as you go. Alright, I listed them out, but how do you use each page?
About Me Bullet Journal Page
This page is for you to have fun with. You can draw pictures or put pictures in it. Write out phrases that describe who are. Or you could list out your accomplishments. Express your creativity and start out the month in a confident and positive way!
Month, Weekly, & Daily Pages
These are the must have bullet journal pages. It wouldn't be a bullet journal without them. They are meant to be references for you. You can:
keep track of where you are in the month
List out what your to-do's are
leave any notes that you may need to refer back to
Try to keep your monthly and weekly pages more vague and leave the details to your daily pages. Your month and weekly pages are meant to be like quick reminders so you can cross them off and not feel too overwhelmed. Your daily pages are there for you to be detailed, and jot your thoughts down.
Christmas Countdown Pages
It wouldn't be a Christmas themed bullet journal without a couple of pages dedicated to a Christmas countdown! I put cute clipart pictures on these pages for you to color in. Let out your inner child every day and color a picture to signify how close you are and how far you've come. You deserve a little time for yourself and this is one way to do that.
Besides, I have heard that coloring can be a bit of a stress reliever. If this isn't the time to indulge in a little coloring to relieve some stress then I don't know when the perfect time would be!
Shopping List Page
One thing is for sure, Christmas time means shopping time. Jot down who you need to shop for, or what you need to get them. Then, when you are done, cross them off your list. I have also put a to-do and notes section here just in case. This will ensure you don't forget anyone or anything. Just don't forget to wrap the gifts in time!
Dinner Planning Pages
This year has been a little weird, but even if your dinner table will be small, I thought this could help. You can write down what meals you need to make, what items you need to get from the store, when to prep what, and so much more! In these two pages I have the following sections:
Bring it to the grocery store with you so that you don't forget a thing.
Cards To Send Page
This year more than any other, people could benefit from some holiday cheer. Write down a list of your family, friends, or even neighbors. Then, write out your cards and cross out the names on your list as you go.
Budget Income and Expenses Pages
If there is one thing I have learned, it's that we often spend more than we think we are going to. Keep track throughout the month so you don't over spend. Keeping a budget is always good practice so you may find yourself continuing the practice after December. For now, I have created multiple income and expenses pages where you can keep track of the date, source, and amount.
Books To Read Page
If you couldn't tell, I love to read. I know you do too! So, I created one page with little books on it. Write down the titles of the books you want to get to this month. You could color the books in as you go for bonus points on creativity!
I do have one side note to add. I put several blank books on this page. I know you won't be able to read as many as I put on there. But, just in case, I wanted to make sure you had enough to work with.
Movies To Watch Page
There are no shortage of Christmas and holiday-themed movies out there and I don't want you to forget about them! I put blank retro t.v.'s on this page and you can put the movie title's inside them! Or you could draw a picture that gives a clue to what the movie is! How you use the page is completely up to you. Get cozy on your couch and have a fun-filled day or night watching amazing movies!
Holiday Bucket List Page
Take advantage of this page to put anything on this list. It could be anything but here are 10 ideas to get you started:
Sledding
Snowboarding
Zoo lights
A Christmas bake-off with family or friends via zoom
Drive around and look at Christmas lights
Make a snowman or igloo
Make a gingerbread house
Host a virtual ugly Christmas sweater party
Have a Christmas themed photoshoot
wear Christmas socks and matching pajama's with someone
Quotes Pages
People love quotes. Are you one of them? Hopefully so because I left two pages for you to write them down. Try writing them in different fonts and sizes. You could put quotes from people, books, movies, or even aspirational quotes for yourself.
Why You Need This Bullet Journal
The holidays can be stressful and you could benefit from having some kind of an organizational system. Why not try a new way of staying organized? A way that can make you feel stress-free and at ease. Well, that's what my bullet journal is there for. To feel less stressed this month. And, to top it off, I think you should have it for free. Especially if this is your first time trying one out!
How To Get My #1 Christmas Themed Free Printable Bullet Journal!
Now comes the easiest part for you. The way to get this free printable bullet journal just two steps! That's right. Super simple right? I thought so too. All you have to do is sign up for my bi-weekly periodical, and you will get this journal emailed straight into your inbox. The next step is to download it and print it. It's that easy.
Helpful Tips To Make This The Best Experience Ever
This journal is designed to be an A5 sized journal. As such you might want to get a binder that you can put these pages in to keep them safe. Here is an A5 binder that you will only need to get once! After printing the free journal, all you have to do is put it in the binder. When December is over, you can take the pages out and use it for future bullet journals or planners.
" target="_blank" rel="noreferrer noopener nofollow">Creative Year A5 Binder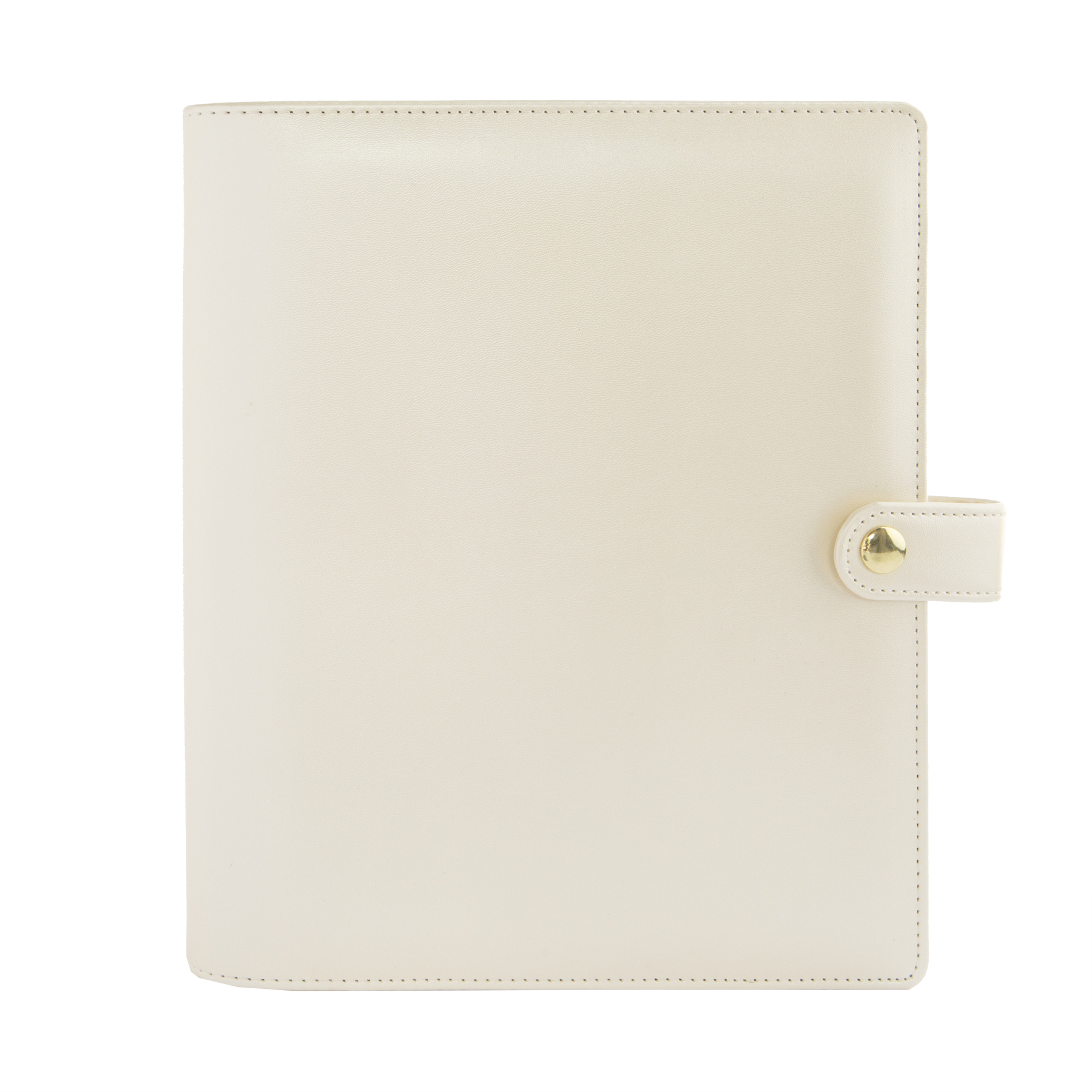 Let's Talk About It!
Today I went over what a bullet journal is, what the must have bullet journal pages are, what is in my Christmas Themed Bullet Journal, and how you can get it for free. I recommend this for you if you love the holidays and you love keeping things simple. Also, it will definitely work if you like coloring! Don't miss out this month, enjoy my free gift to you!
With love,
Alexis M.
It has been so great talking to you. If you like what I have to say, you can support me by:
Subscribing to my newsletter. (P.S. you will get access to my VIP Freebies Vault if you do)
Clicking and buying through my affiliate links. The cost does not change for you, but I do get a small commission from your purchase.
Leaving a comment below or contacting me via my contact page for any requests or just to talk.
If you are an author, let's support each other! I have services that I can provide to you via my services page Or, you can contact me here about doing a book review, book cover reveal, book blog tour, and more!
Hi! I am a book blogger primarily. The aim of this blog is to help readers and writers alike. I also write the occasional travel related post. I am a nerd like you with a passion for neuroscience and learning. Hence, my love for books and the authors who write those books!